Information on energy efficiency and sustainability
Responsible and energy-saving
The huge demand last year, with a total of around 1.9 million visitors to the Christmas Gardens in Germany and other European countries, showed how much people enjoy the glowing color magic and atmospheric light art of these events. We have done a great deal to reduce the energy consumption of the events as much as possible so that they can be held at the usual first-class level despite the energy crisis.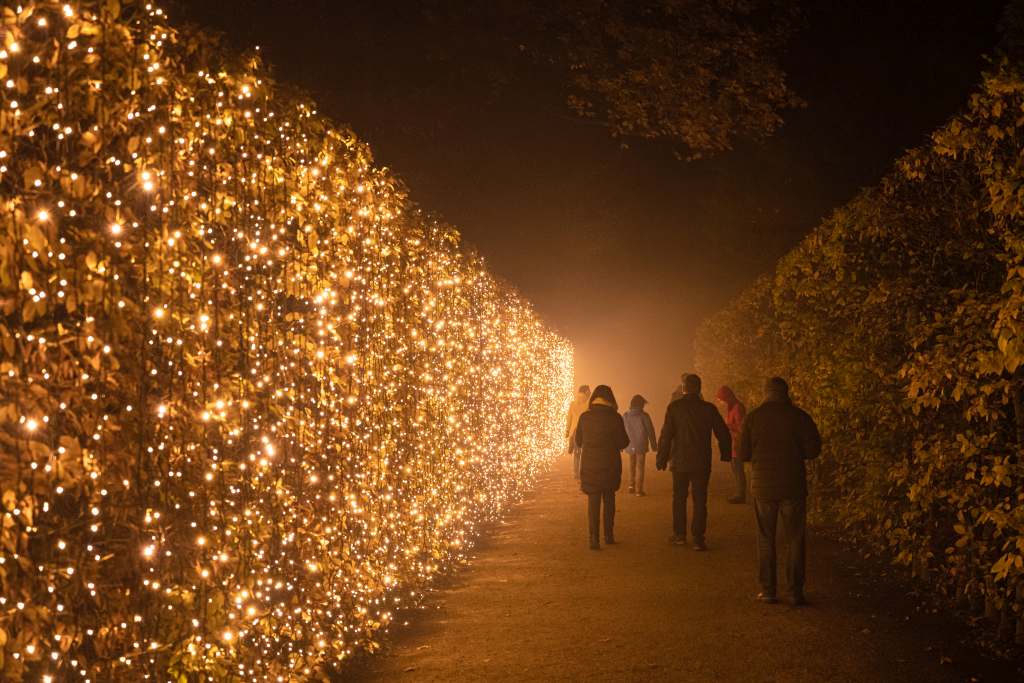 Central points of our energy concept
For the operation of a Christmas Garden on one event day, an average of approx. 1,330 kilowatt hours (kWh) are consumed in a national comparison, per visitor this is an average of 0.56 kWh. The energy consumption for the lighting installations is therefore roughly equivalent to the amount of electricity needed to start up a standard coffee filter machine (1,000 W, operation approx. 20 to 30 minutes) or to iron for 19 minutes.
The lighting design as well as the pathway lighting consist of 90 percent LEDs, which results in an 80 percent energy saving compared to conventional light sources. As a matter of principle, the lowest necessary wattage is selected for the application. In addition, the traditional ice rinks, which are very popular with the public, were not included. The lighting of the circular path has been reduced to a safety-relevant minimum. We have also optimized our work processes, so that it now only takes 30 minutes to ramp up the lighting installations (instead of 60 minutes last year). Overall, we thus arrive at an average electricity saving of approx. 30%.
From the catering partners to the wood suppliers for the fire bowls to the means of transport for the employees - a large part of all energy-relevant aspects could be optimized in terms of sustainability. This includes transportation with e-golfcars or cargo bikes, the use of mulled wine dispensers with continuous flow heaters, the largely compostable packaging of the food, or the deposit system for glasses and cups with an on-site dishwashing service. The electricity used is predominantly obtained as green electricity from sustainable energy sources and the use of generators is dispensed with.
We - the Christmas Garden team - have not only continuously improved the energy-conscious concept in the past, but have also adapted it more intensively, especially for the current event season. Our goal is still to implement the Christmas Garden in the most resource-saving way possible. Therefore, we are continuously working on the further development and optimization of our sustainability concept.